Lactuca, Armenia and Azerbaijan, 2013
---
Collectors: C. Kik (Netherlands), V. Farzaliyev and N. Guliyev (Uzbekistan), G. Melyan and I. Gabrielyan (Armenia)
Introduction
Collecting wild relatives of lettuce (Lactuca sativa L.), and especially Lactuca species endemic to the Trans Caucasus, was the aim of this expedition, which made this expedition a single crop expedition. In the international Lactuca database 11697 Lactuca accessions are present including 10225 accessions of L. sativa. Of the remaining 1472 accessions, the wild relatives with the highest numbers of accessions are Lactuca serriola, L. virosa and L. saligna with 993, 141 and 121 accessions respectively. These species belong to genepool I or II. The other wild relatives from genepool I and II are present with only a few accessions. However wild relatives of lettuce are becoming increasingly important for the breeding of new lettuce varieties and carrying out innovative research.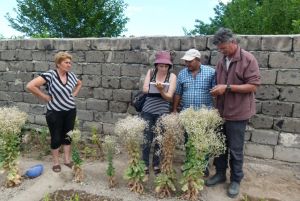 The Lactuca collection of CGN is the largest worldwide with almost 2500 available accessions currently present (August 2018). The collection was enlarged also with accessions collected in ten previously carried expeditions by CGN. In 1990 and 1991 also Lactuca collecting took place in the Trans Caucasus, this involved L. serriola and L. saligna.
In 2013 a Memorandum of Understanding adopting the standard Material Transfer Agreement (sMTA) of the Internal Treaty for Plant Genetic Resources for Food and Agriculture (IT-PGRFA), as a basis for distribution, was signed between CGN and the national authorities in Armenia and Azerbaijan.
During the expedition populations of seven species from 115 sites were sampled in Armenia and Azerbaijan.
Documents
A full report of this expedition is currently only available to sponsors of this mission. The material and information will be available 3 years after successful regeneration of the collected material. For some material this embargo period has expired. This material is available for users.
Material
Download an Excel file (in EURISCO format) with collected samples of this mission from which the embargo period has expired.

KMZ
---

Lactuca collecting expedition 2013