Asparagus, Armenia and Azerbaijan, 2012
---
Collectors: C. Kik (Netherlands), V. Farzaliyev and N. Guliyev (Uzbekistan), G. Melyan and I. Gabrielyan (Armenia)
Introduction
Collecting landraces and wild populations of asparagus (Asparagus officinalis L.) together with its wild relatives was the aim of this expedition, which made this expedition a single crop expedition. In the international minor leafy vegetables database 231 accessions of Asparagus officinalis (garden asparagus) and 132 accessions of its wild relatives are reported to be present in genebanks worldwide. Checking the availability of these accessions CGN observed that only 168 accessions were available: 144 A. officinalis and 24 wild relatives. This was considered too low by CGN and its stakeholders and therefore an expedition was warranted.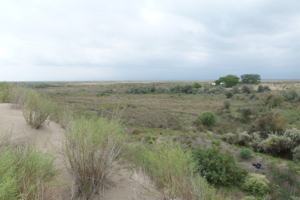 The expedition was carried out in the Trans Caucasus as this area is known to be part of the biodiversity centre of Asparagus officinalis. CGN has conducted a large number of expeditions in the past, and the current Asparagus expedition fits into this tradition. Furthermore in 2011 a spinach collecting expedition took place in the same area. Therefore this collecting expedition could benefit from the knowledge and experience obtained during this previous expedition.
In 2012 a Memorandum of Understanding adopting the standard Material Transfer Agreement (sMTA) of the Internal Treaty for Plant Genetic Resources for Food and Agriculture (IT-PGRFA), as a basis for distribution, was signed between CGN and the national authorities on access and benefit sharing in Armenia and Azerbaijan. This document formed the legal basis of the expedition.
Documents and material
The material and information will be available 5 years after successful regeneration of the collected material.

KMZ
---
| | |
| --- | --- |
| Collecting asparagus, 2011 | |
---